Glass and Optical Care Cleaner Concentrate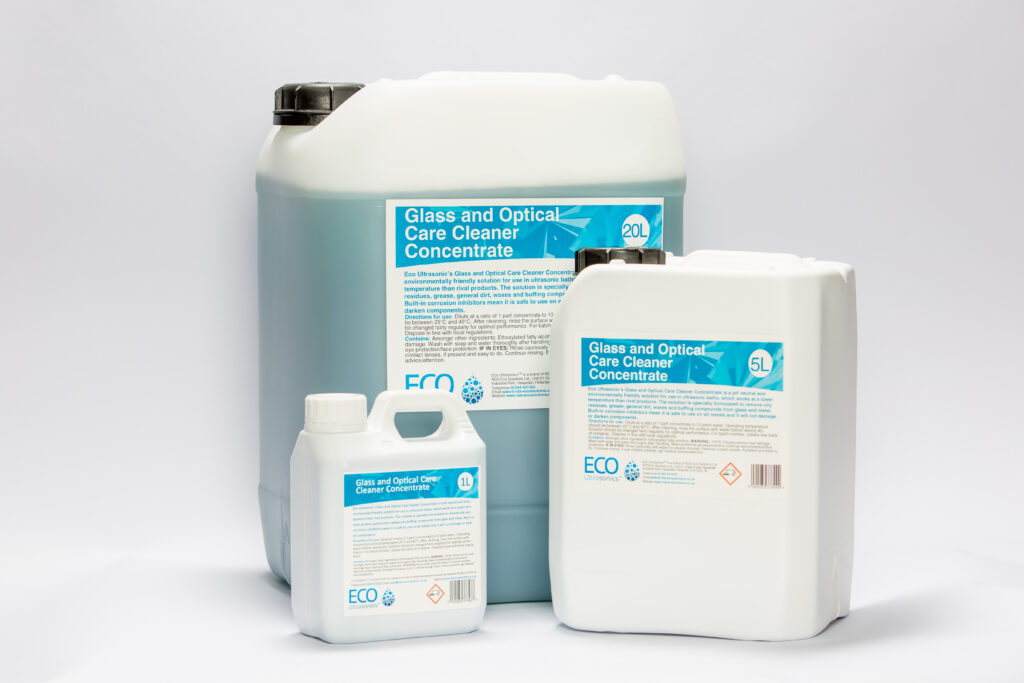 Glass and Optical Care Cleaner Concentrate
Biodegradable
Friendly to the environment
Not corrosive to metals, including aluminium
Neutral pH
Can be used in hard or soft water
Most effective around 40°C – reducing the need for timely and expensive water heating
Shipping included
Directions for use
Dilute at a ratio of 1 part concentrate to 10 parts water. Operating temperature of the ultrasonic bath should be between 15°C and 45°C. Do not take the bath above 55°C as the micro emulsion will begin to break down and surfactants will deposit on the surface you are trying to clean.
After cleaning rinse the surface with water before wiping dry. The solution should be changed fairly regularly for optimal performance.
It works well in hard or soft water. Tests for suitability before use are always advised.
The solution itself is non hazardous for waste disposal (ie. it can go down the drain) but please be mindful of the contamination from what you are cleaning. If the level of soiling is high please check your local disposal regulations.
Other information
Eco Ultrasonics' Glass and Optical Care Cleaner Concentrate is a microemulsion capable of solubilising oily, hydrophobic substances in a biphase composition making it highly effective at cleaning surfaces.
This removes the need for chlorinated solvents, hydrocarbon solvents and high pH caustic solutions.
It is also effective at a lower temperature than rival products, which means cheaper energy bills and time saved in waiting for water to heat up.
Safety Data Sheets are available on request
Delivery information
We have over 20 years of shipping worldwide. If you are a customer outside of the UK, or want a large quantity then please contact us using the contact details below.
Contact
If you have any questions about the product or shipping then please contact us.
NDS Eco Solutions Ltd
Unit D1 Clwyd Close
Hawarden Ind. Park
Hawarden
Flintshire
CH5 3PZ
Tel: 01244 531422
Email: sales@nds-ecosolutions.co.uk