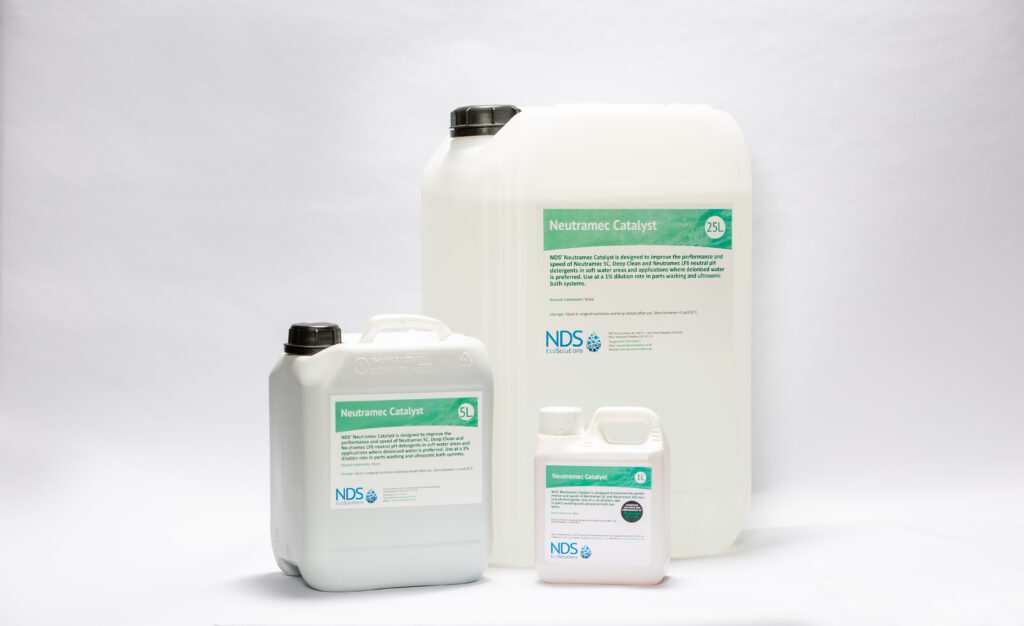 Neutramec Catalyst is a non-corrosive sodium salt which helps to improve the cleaning power of Neutramec SC, Neutramec Deep Clean and Neutramec LF6.
It does this in two ways – firstly by standardising the water items are cleaned in to ensure a good performance of the Neutramec product, and secondly by adding free ions into the system which helps our cleaning products to attach to any oils or printing inks which need cleaning.
Neutramec Catalyst is neutral pH and only need to be used at 1% to ensure an excellent standard of cleaning. It is particularly recommended for use in printing applications where ultrasonic baths are used.
We are able to supply Neutramec Catalyst in 1ltr, 5ltr and 25ltr containers to UK customers via our website (prices include shipping). We can also supply to anywhere in the world and in 25ltr, 208ltr drums and 1000kg IBCs. Please contact sales@nds-ecosolutions.co.uk to enquire.
For use with Neutramec SC, Neutramec Deep Clean and Neutramec LF6
Biodegradable
Friendly to the environment
Non toxic
1% dilution rate
Not corrosive to metals, including aluminium
Neutral pH
Standardises the water used in the system and improves performance
Safe to handle
Method of use
Use at 1% in conjungtion with Neutramec SC, Neutramec Deep Clean and Neutramec LF6. It is particularly effective in ultrasonic bath systems. It is highly recommended for cleaning printing inks.
Do not use Neutramec Catalyst by itself, it is not a detergent so will not clean anything.
Tests for suitability before use are advisable.
Applications
Neutramec Catalyst is non-corrosive sodium salt which helps to standardise the water being used in a cleaning system and improve performance.
Neutramec Catalyst Technical Data Sheet – coming soon
Safety Data Sheets are available on request
Delivery information
We have over 20 years of experience shipping worldwide. If you are a customer outside of the UK, or want a large quantity then please contact us using the contact details below.
Contact
If you have any questions about the product or shipping then please contact us.
NDS Eco Solutions Ltd
Unit D1 Clwyd Close
Hawarden Ind. Park
Hawarden
Flintshire
CH5 3PZ
Tel: 01244 531422
Email: sales@nds-ecosolutions.co.uk