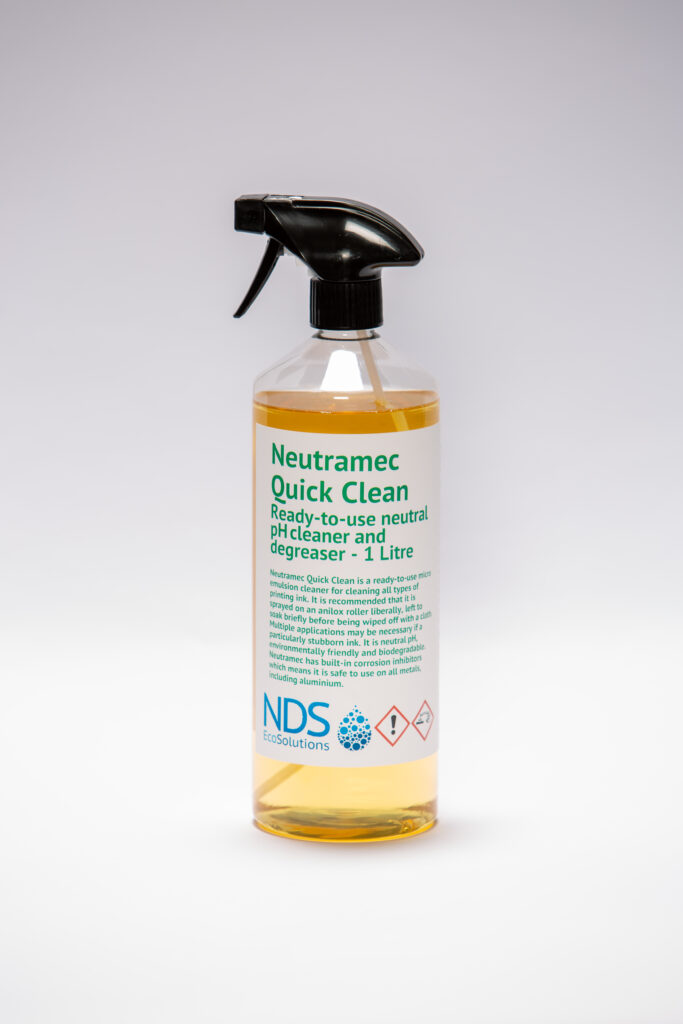 Neutramec Quick Wash is a ready-to-use concentrated micro-emulsion degreaser suitable for cleaning anilox rollers and other sundry printing equipment manually in a spray on and wipe off system. It is mildly alkaline, is not corrosive to metals, it is environmentally friendly and very safe to handle.
It can be used on all types of ink – solvent, UV, LED and water based. It can also be used in a soaking application before placing items in an ultrasonic tank. It's powerful cleaning action removes the need for high alkaline solutions and gels which are corrosive.
We are able to supply Neutramec Quick Wash in 1ltr spray bottles and 25ltr refill containers to UK customers via our website (prices include shipping). We can also supply to anywhere in the world and in 25ltr, 208ltr drums and 1000kg IBCs. Please contact sales@nds-ecosolutions.co.uk to enquire.
Our most powerful micro-emulsion cleaner
Biodegradable
Friendly to the environment
Non toxic
Ready-to-use, no dilution required
Not corrosive to metals, including aluminium
Mild alkaline
Safe to handle
No heating required
Method of use
Neutramec Quickwash comes at a ready-to-use dilution designed to be used in quick turnaround cleaning on anilox rollers. Start by removing any excess ink from the roller then simply spray Quick Wash onto the roller, or sundry printing equipment, spread the liquid all over the roller to ensure full coverage, wait a few moments and then wipe off. Multiple applications may be necessary depending on the level of ink on the roller.
The formulation is a micro-emulsion which is effective at cleaning organic compounds such as ink without damaging inorganic compounds such as metal.
Tests for suitability before use are advisable.
Applications
Neutramec Quick Wash is a concentrated blend of environmentally friendly oxygenated solvents and surfactants. It is a  microemulsion cleaner capable of solubilising oily, hydrophobic substances in a biphase composition making it highly effective at cleaning surfaces. This removes the need for chlorinated solvents, hydrocarbon solvents and high pH caustic solutions. The product has been formulated to decontaminate hard surfaces, particularly metal parts and machinery in precision engineering environments where metal protection is important.
Neutramec Quick Wash data sheet – coming soon
Safety Data Sheets are available on request
Delivery information
We have over 20 years of experience shipping worldwide. If you are a customer outside of the UK, or want a large quantity then please contact us using the contact details below.
Contact
If you have any questions about the product or shipping then please contact us.
NDS Eco Solutions Ltd
Unit D1 Clwyd Close
Hawarden Ind. Park
Hawarden
Flintshire
CH5 3PZ
Tel: 01244 531422
Email: sales@nds-ecosolutions.co.uk